Ray Brown, Senior Insurance Agent
Gregis Insurance Agency – Bridgeport, WV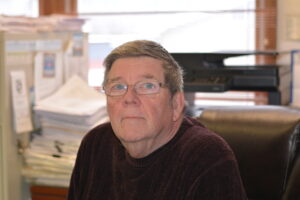 Ray Brown
Senior Agent, Gregis Insurance Agency
Senior Insurance Agent Ray Brown offers our clients the knowledge and skill gained through more than 28 years of solid experience in the insurance industry. A native of New York, Ray moved to West Virginia in 1991 and officially came aboard Gregis Insurance Agency in 1992. He earned his master's degree from Pittsburg State University College at Pittsburg, Kansas, and his bachelor's degree from Castleton University in Western Vermont.
Homeowner's and Auto Insurance Specialist
Ray is our senior agent and resident personal lines specialist with focused expertise in the areas of Homeowner's Insurance and Automobile Insurance. With full access to the finest and most reputable insurance carriers across the nation, Ray selects only the strongest companies with the highest level of integrity for our clients. As an independent agent, he works for you. If you're looking for insurance coverage for your home or car, you are definitely in the right place. Ray is committed to delivering the best coverage for your unique needs at the most competitive price. Contact Ray for a quote today.
Dedicated to Finding the BEST Insurance Coverage for You
Ray works with you to find out what is most important to you and develops quotes that meet your needs – and your budget. His level of experience enables him to offer a much wider array of options for our customers to choose from. Whether you are at a point in your life where cost is the paramount consideration or security for your family has taken center stage, Ray is ready to work in your best interest to deliver an insurance product we are certain you will be happy with.
Avid Reader and Railfan
When he's not in the office safeguarding our clients' homes, vehicles, and personal property, Ray is an avid reader who enjoys catching up on works from his favorite authors and exploring a wide range of fascinating writing styles. Additionally, Ray is a lifelong railfan whose passion and enthusiasm for all things train-related makes him right at home amidst the numerous vintage and modern freight, passenger, and other trains that pass through our region.
Home and Auto Insurance Specialist
Ray focuses solely on protecting our clients' homes and vehicles. Connect with Personal Line Specialist Ray Brown at Gregis Insurance Agency for highly qualified risk management and expert insurance guidance to safeguard your most important investments. Call Ray at: (304) 842-2054.
Ray's Areas of Expertise
Call Ray for personalized assistance with:
Homeowners Insurance
Auto Insurance – Standard
Auto Insurance – High Risk
Ray Brown
Gregis Insurance Agency
(304) 842-2054